Freelancer: David Blair / Reel8
About:  David has 14 years experience in photographic direction, animation, film and digital video production. 9 years experience in 3d animation, motion graphic design and post production for broadcast, outdoor digital and installation. 6 years commercial experience directing, designing and creating motion graphics and animation for global brands, high profile clients and key campaigns. David is currently based in London and available for work.
Year:  2009
Music: 
Clients: AC/DC …
Web:  http://www.reel8.co.uk/ ::
Location: London, United Kingdom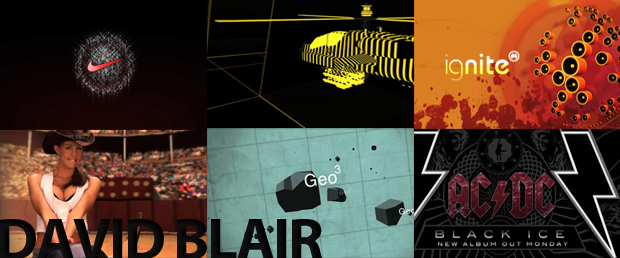 David Blair performance as a VJ under the name KodeK. So check out his site here:
http://www.myspace.com/operationmindfcuk
Chewed Tape, Dirty Playhead. An extract from VJ KodeKs first 2008 60min live A/V performance, designed animated and performed live for broadcast on Kanal 21 in the city of Bielefeld. Part of the Soundlab21 produced series Nachtschicht which invites DJs and VJs to collaborate on unique 60min audio visual creations.
Audio Mix: Treibstoff 2000, By DJ Twist ( Oli )
http://www.myspace.com/nachtschichtav
http://www.myspace.com/soundlab21
VJ KodeK is a London based Motion Graphics Designer by day, audio/video performance artist by night and Creative Director/Lead Motion Graphics Designer for Yes We Work.
Video files created using Cinema 4D and After Effects.
Mixed live using 4 x DVD Players + Korg Kross Four.