In my Opinion:
A very beautiful reel with a lot of different projects like Marvel and Axe.
Agency:
Onesize
About:
Onesize is a Dutch, Delft based creative studio, founded in 2001 by two creative partners. Focussing on (motion) graphics, animation, visual effects and live-action direction and production for film and television. It is in the combination of live-action, 3D, graphic design, sound design and music that we follow paths, which leads us to new opportunities in freshness and cutting the edge of design and concept.
Year:
2008 / 2007 / 2006 / 2005
Music:
still missing
Clients:
Nike, Adidas, O'Neill, Fanta, Mitsubishi, BMW, Jägermeister, Bols, Spyder Clothing, MTV, TMF, G4 Network, Discovery Europe, Travel Channel, Concrete Pictures, Centraal Beheer Achmea, Calve , Dorito's, Mars, FHV.BBDO, PPGH, JWT Amsterdam, Ogilvy, 180 Amsterdam, Presky Maves Group, Euro RSCG, KesselsKramer, Rapier, TM Advertising, ..,staat Amsterdam, Shop Around.
Web:
More Links:
Location:
THE NETHERLANDS – Delft ,GERMANY – Hamburg, USA – Los Angeles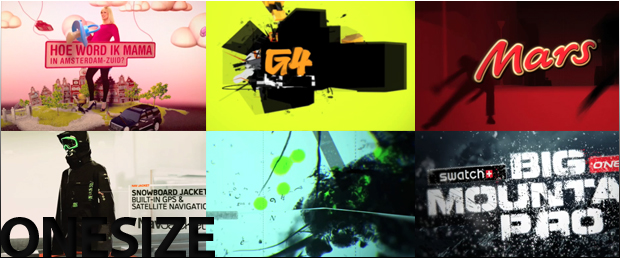 Onesize Showreel 2007:
Onesize Showreel 2006:
Onesize Showreel 2005: